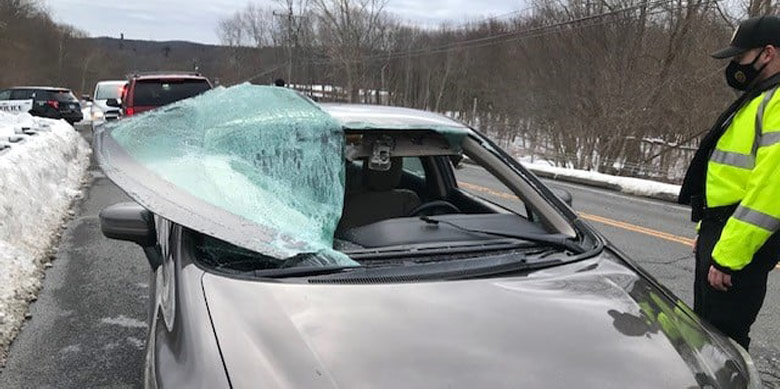 With the worker shortage continuing and months of winter right around the corner, the pressure to keep vehicles on the road when it snows is mounting. Sending trucks and trailers out without removing rooftop snow puts vehicles on the road quickly, but it's a management decision that comes with risks.
Fleet managers need to know the impact of a decision to ignore rooftop snow removal from their trucks, trailers, and buses. Leaving snow and ice intact on your vehicles can have profound and costly consequences.
We've compiled a list of 5 risks fleet managers take when choosing not to remove rooftop snow from your truck, trailer, or bus fleet.
Risk #1: Life-changing harm
Operating fleet vehicles without clearing rooftop snow is a decision that can potentially harm fellow citizens. Snow left to freeze and thaw on vehicle rooftops creates solid ice blocks that can dislodge from vehicles driving on the road. These ice missiles can cause accidents, injury and fatalities for fellow motorists on roadways.
There are lots of directly-measurable costs associated with accidents from ice missiles, but the cost of a fatality or serious injury is unmeasurable to the motorists and families involved.
Risk #2: Legislative Fines and Lawsuits
Should a tragedy caused by dislodging snow or ice occur on the road, after-accident lawsuits can be extremely time-consuming and expensive. These incidents have led legislators to create stricter snow laws for vehicles across the country. Jessica's Law in New Hampshire is one example of strong legislation for bus, truck, and tractor trailer snow removal systems that was initiated by the death of an individual hit by flying snow from a commercial vehicle.
Similar legislation has passed or is pending in additional states, and we've complied a more detailed look at snow laws across North America.
Risk #3: Damage to a Company's Brand
Snow and ice blowing off the roofs of your vehicles onto roadways and passing vehicles can destroy your brand and company reputation in the public eye. When accidents involve a fleet's vehicle, the company often becomes the face of the tragedy. Failing to clear snow from a rooftop will likely result in the view that the fleet company caused the accident through negligent behavior.
Years of creating a positive company image in the marketplace can be ruined in an instant, and dragged out over time if lawsuits and or legislation changes follow ice missile accidents.
Risk #4: Fines and violations for Drivers and Fleet Owners
Companies and drivers are mandated by law to operate commercial motor vehicles in a safe manner, and when they don't, both drivers and fleet owners can be subject to fines and violations. Some states have laws specifically written for snow removal from vehicle roofs. Others have legislation regulating travel with excess weight and unsecured loads, and not clearing snow off trailers, trucks, and buses can land a driver or fleet owner in violation.
Fines can range from $75-$1,500 per incident, and could include additional penalties. These avoidable costs add up quickly for drivers and fleet owners.
Risk #5: Reduced Fuel Economy
Fleet managers have long implemented solutions like capping driving speeds and using side skirts and boat tails to conserve fuel and improve aerodynamics. But they often overlook rooftop snow as a source of added drag, weight, and height to every vehicle in your fleet.
Just one heavy, 6-in/15cm snowfall can add 4,730 lbs/2,145 kg to a trailer roof – enough to cause a 2% loss or more of fuel efficiency and cost your company thousands in unwanted fuel expenses.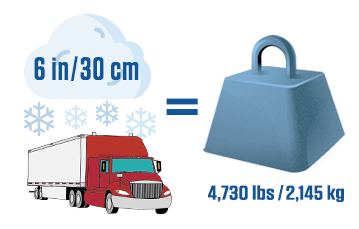 The bottom line for fleet managers
Fleet managers and facility operators who choose to ignore clearing rooftop snow from the roofs of trucks and trailers take significant – sometimes life-threatening – risks that could impact their operation, brand, and motorists on the road. Action should be taken to help keep your fleet compliant with legislations, and your drivers and the public safe this winter.
Create a process for removing snow from tops of trailers, trucks, and buses before vehicles leave your yard. Make this standard operating procedure after every snowstorm greater than one inch.
Implement a solution that fits your company's needs and uses your company resources (including staff) appropriately. It should be safe, simple, cost effective, time efficient and allow you to meet customer demands for on-time delivery.
Compare the many snow removal options available – from roof rakes for manual snow clearing to fully automated drive-through snow removal machines from Scraper Systems by Rite-Hite™ – and evaluate yearly the direct and indirect costs associated with each snowstorm.