FleetPlow™ 110S from Scraper Systems
Permanent base-mount with Standard Automation
Works on almost any vehicle, including trucks, box trucks, and most delivery vans
Backed across North America by an extensive service and installation Dealer Network
Standard Automation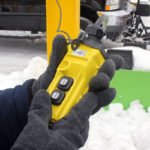 FleetPlow 110S is available with our standard automated snow removal system with AutoUP ™ that lets the driver, or an attendant lower the Deep-V™ plow blade to the correct position over the roof of the truck or trailer using a hand-held, up-down pendant control. The driver then proceeds forward and clears the snow off the roof of their vehicle. When finished, the AutoUp™ sensor raises the snow scraper plow automatically for the next truck.
A closer look at FleetPlow™ 110S from Scraper Systems
Questions or need help determining the snow scraper that's right for you?