Snow Laws Vary Widely by State and Province
They affect all drivers on the road, not just the drivers licensed in the state that has regulation.
Fleet managers and drivers need to know the legislation in their whole travel footprint to safely keep their trucks and buses on the road after a snowstorm. Our snow removal machines help your fleet comply with snow laws, avoid delays and violations, and meet your customer demands.
Snow Removal Laws
Features of our Snow Removal Machine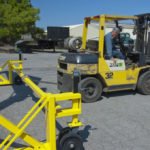 Fully-Portable Snow Removal Machine Models
The patented jack and wheel system can only be provided by Scraper Systems. Most of our customers choose the portable option because it creates versatility for placement and summer off-season storage.
---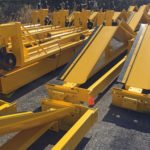 Durable Materials last 20+ years
Our snow removal machines are built to last. Our earliest snow scrapers have been in service for twenty years and are still working tirelessly. All parts are commercial grade and designed for extreme weather conditions. FleetPlows are fabricated and assembled in our modern, spacious, and automated factory in Lancaster County, Pennsylvania.
---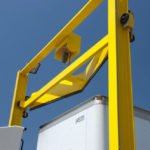 Infinitely Adjustable Height
On-demand adjustability comes from our time-proven hoist capabilities that make sure you get simple operation and repeatable snow clearing performance all winter long – and for many winters. From 75-inch van heights to 14 foot-high trailers, our FleetPlow accommodates all sizes of buses, trucks, delivery vans, and specialty vehicles effortlessly. An optional flatbed package is also available.
---

Just 110 Volt Plug-In electric Service
For reliability and convenience, our FleetPlows are powered simply by standard 110V single-phase electricity or battery. The machine has a plug-in connection for a 15-amp extension cord from an outlet or a small 1400-watt gas generator. The unit can also be hard wired for permanent installations.
---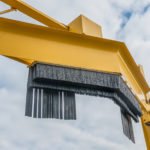 Deep-V Plow Blade
Our concave plow blade captures and curls more deep and wet snow than any other method – two feet of snow per pass with our Heavy-Duty snow removal machine, and up to 12″ with our Medium-Duty scraper system. Snow, ice, and slush are directed outside the driving lane, leaving less to plow on the ground. The plow blade assembly is wide to reduce the need for the driver to be perfectly centered.
---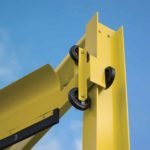 Accu-Track™ Plow Guide System
The suspended plow pivots on a center point. The Heavy-Duty plow tracks with 8-10 wheels along the upright columns. The Medium-Duty plow uses twelve slider pads for tracking. This vertical and torsional mobility allows the plow edge to adapt to ground, rooftop, and elevation changes without excessive pressure. Our FleetPlow is safe and effective for both translucent roofs and corrugated intermodal containers.
---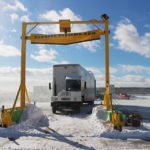 Wide 15 ft. Drive Opening
Our generous pass-through on Heavy-Duty scraper systems provides ample room for the challenges of driving large vehicles in congested and slippery conditions. The enhanced width also makes it easier for the largest plows and buckets to quickly maneuver ground snow away.
---
LED Floodlight for Night Use
Our solid state 9400 lumens floodlight for Heavy-Duty machines combines high-efficiency optics, superior thermal management, and energy efficiency as a long-lasting solution for cold and wet locations. It is constructed of a heavy-duty, die cast aluminum housing finished with five-stage powder coating.