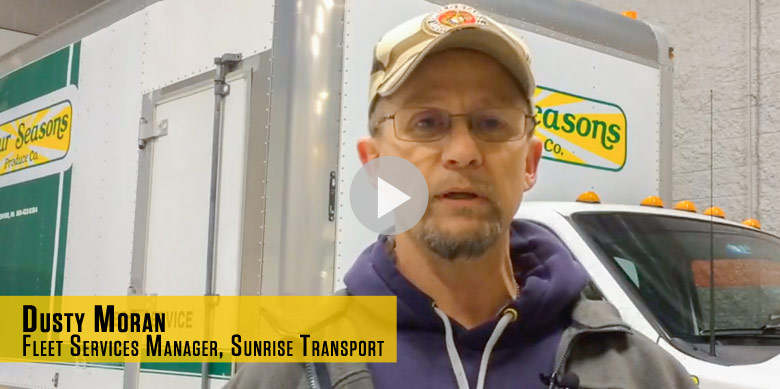 "What used ot take us most of the day if not all day we can now do in just a matter of a few hours."
– Dusty Moran, former Fleet Services Manager
Streamlined efficiency is vital when you manage third party logistics and fresh produce is your cargo. For Sunrise Transport in Denver, PA, clearing rooftop snow from 100 tractor trailers and 30 box trucks disrupted work and added layers of unwanted complexity. Every time it snowed, shop workers and mechanics were redirected from their responsibilities to do the time-consuming, labor-intensive job of removing snow so loads of fruits and vegetables could be delivered. The Scraper Systems FleetPlow Model 440T made snow removal a lot easier – using fewer people and significantly less time to put trucks on the road.
Sunrise Transport Project Details
Fleet includes 130 vehicles – mix of tractor trailers and box trucks
Snow clearing method: Available shop workers and mechanics
Labor commitment: full day every time it snows
Solution: Model 440T, Heavy-Duty, Portable FleetPlow with One-TAP Automation
Clears 24 in. of rooftop snow in 30 seconds
Reduced labor required
Two people can do the job within hours
We're here to help make your winter easier.