Choose the model that best suits your facility.
Portable
Model 880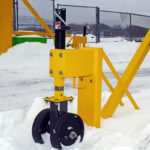 Portable models can be rolled to different locations within your facility, reclaiming space after winter has passed. The unit is mounted on a heavy-duty chassis equipped with dual 12″ wheels on each corner, repositioning screw jacks, and removable concrete ballasts and tow bars. Because of its versatility, the portable is our most popular model and performs just as effectively as the base-mount units.
Base-Mount
Model 770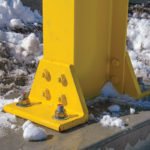 These models come with a base plate bolt-on mounting system and are suitable for facilities where the unit can stay in one place. Footers must be constructed on site prior to the unit being installed. Scraper Systems will provide drawings, bolt patterns, and anchor bolts for the concrete contractor prior to installation.
Wide-Spanner
Series 700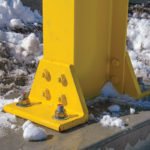 Our extra-wide models can span exit and entrance driveways and throughways when yard space is limited. Specially designed heavier steel cross members allow for spans up to 35′. The mounting system with concrete footers is the same as the Base-Mount.
Deep-V Triple Stage Handles Two Feet of Snow Easily
Our exclusive Triple Stage Plow/Brush/Wiper assembly discharges up to two feet of heavy snow to both sides of the bus. This removes more snow faster while conforming to the contours of rounded roofs.
Safely Passes Over Hatches & Lights
The two rows of 15″ and three rows of 11″ pliable poly snow brushes effectively clear snow off the roof, while safely gliding over and around escape hatches, lights, and other irregular roof attachments.
Powered Height Adjustment
FleetPlows can accommodate any vehicle height from 7′ passenger vans to full-sized coaches up to 14′. The plow assembly is powered by our Harrington 1/2 ton extreme-duty chain hoist.
Reduce Labor and Assure Safety
FleetPlow for Buses Operational Video
Eliminate the time-consuming, back-breaking, and potentially dangerous labor associated with roof rakes and slippery ladders. Simply pressing the up and down buttons on our pendant control gives the operator total adjustability for clearing different roof heights -efficiently and safely.
FleetPlows give you simple operation and reliable performance all winter long.