Features for school bus snow removal you won't find anywhere else.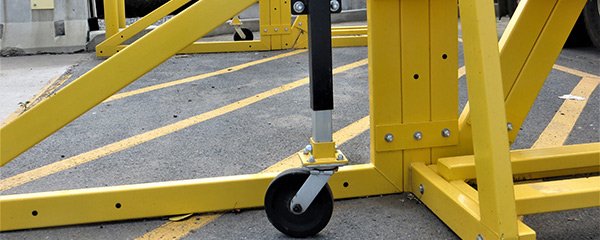 Portability
Rollable chassis frame with screw jacks and caster wheels on each corner let you relocate or reclaim space after the snow season is over.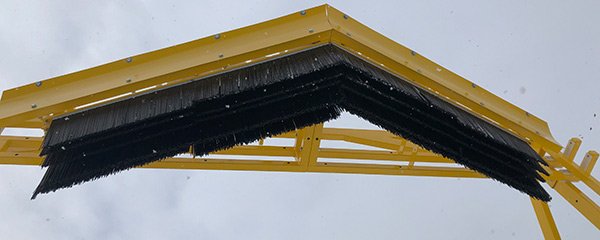 Deep-V™ Plow
Safely and evenly discharge snow and ice off both sides of the vehicle to a controlled location.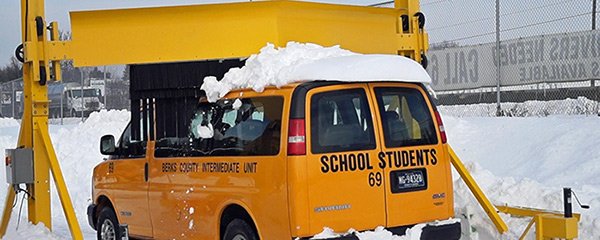 Powered Height Adjustment
Adjust the height of the plow with the touch of a button to accommodate vehicle heights as low as 75 inches and up to 14 feet.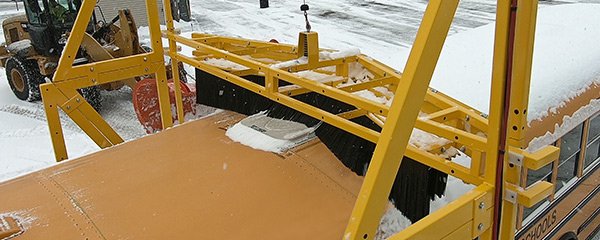 Safely Pass Over Hatches and Lights
Triple-stage brush system safely glides over and around escape hatches, lights and other irregular roof attachments while effectively clearing snow.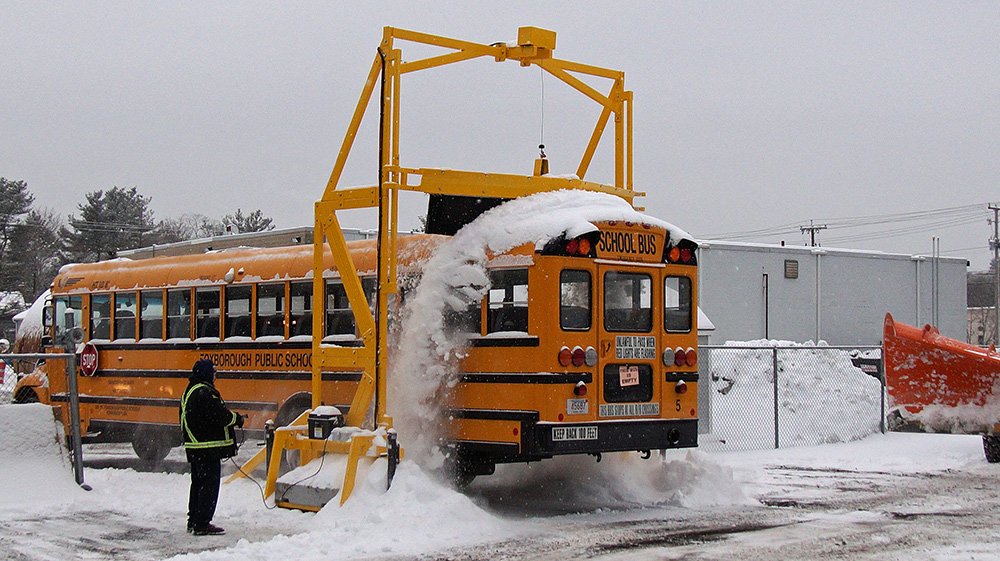 Now Available! Model MD-12B Snow Scraper for Buses
Our new FleetPlow MD-12B snow scraper system for buses provides portability and clears 12″ of wet, heavy snow. It has everything needed to help keep the vast majority of fleets moving. Our Model MD-12B FleetPlow for Buses delivers performance, durability and reliability at a lower cost.
Efficient and repeatable snow removal to a controlled location
Clears 12 inches of snow in less than 30 seconds per vehicle
Budget-friendly
Passes safely over hatches, lights and uneven surfaces
Heavy-Duty Snow Scrapers for Buses
If you face brutal winters, season after season — FleetPlow's dependable lineup of Heavy-Duty automated snow scraper systems can help get your fleet back on the road, storm after storm. Our Heavy-Duty Portable and Wide-Spanner models are built for larger fleets and harsher winters. Clear 24″ of wet, heavy snow in less than 30 seconds, up to 60 vehicles per hour.
Heavy-Duty chassis with wider drive-through accommodates bus/van heights to 14′-0″ and thruways to 35′
Industrial chain hoist (1/2 ton)
Powered by 110V/15A electric using extension cord or inverter generator (option)
Deep-V Plow blade assembly with combination of 10″ and 14″ brushes and 30″ neoprene wipers
Dealer installation is required
Choose the FleetPlow model that's right for you.
Heavy-Duty bus snow removal systems are available, including permanent Base-Mount and Wide-Spanner models up to 35 feet wide.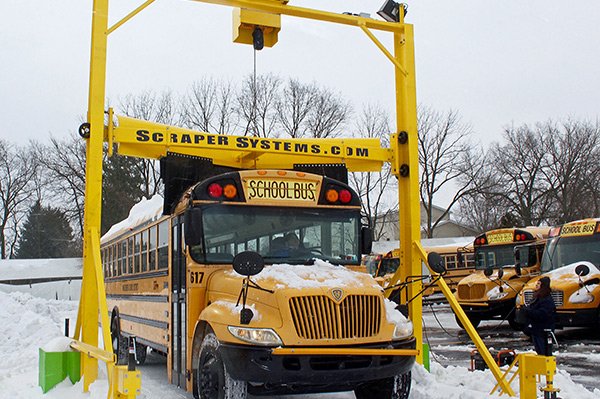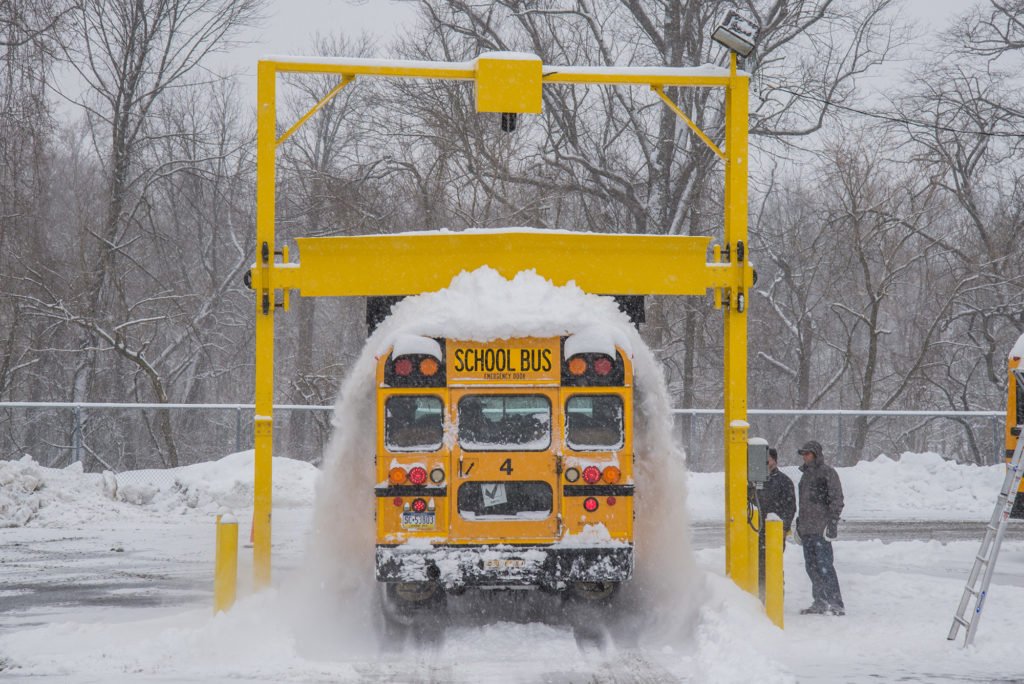 Model 770B
Base-Mount with Powered Height Adjustment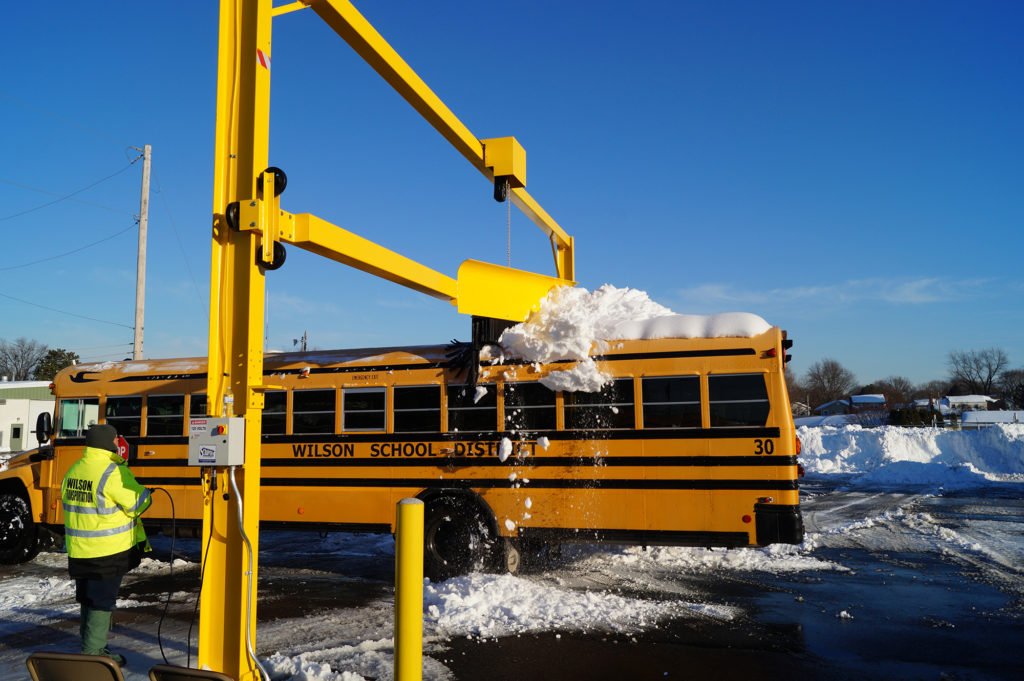 Model 700
Wide-Spanner with Powered Height Adjustment