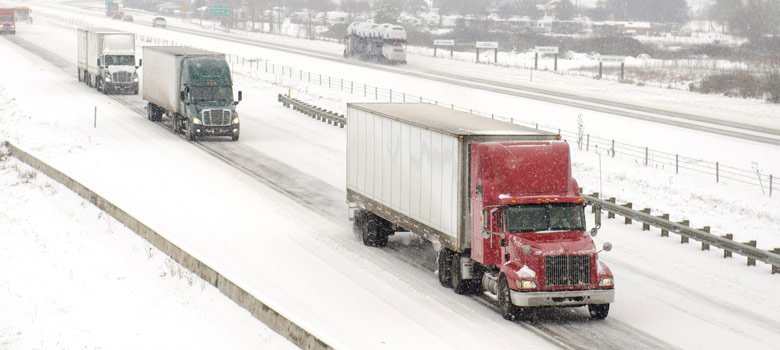 Snow Removal Laws
Chunks of ice and snow dislodge from the roof of a fast-moving truck or bus and land squarely on the windshield of a passing motorist's car.
In a split second, the motorist is startled, his/her sight is blocked. What happens next is unpredictable and possibly tragic.
A cracked or broken windshield. A crash. Injury or death to a motorist or passenger. Each is a potentially devastating outcome.
"Snow laws vary widely by state and province, and they affect all drivers on the road, not just the drivers licensed in the state that has regulation."
Trucks drive by and get passed by hundreds or thousands of other vehicles and pedestrians every day. Regardless of how often it snows, each winter storm brings innumerable complicated situations for fleet drivers and motorists. The risks and liabilities of not removing snow from roof tops of truck and trailer fleets are costly and possibly life threatening.
Snow laws vary widely by state and province, and they affect all drivers on the road, not just the drivers licensed in the state that has regulation. Whether your fleet is driving to, through, or from snowy areas, fleet managers and drivers need to know the laws in their geographical footprint to safely keep their trucks and buses on the road after a snowstorm. Keep abreast of legislation in the states and provinces covered by your incoming and outgoing vehicles to avoid delays and violations, and meet your customer demands.
Follow the research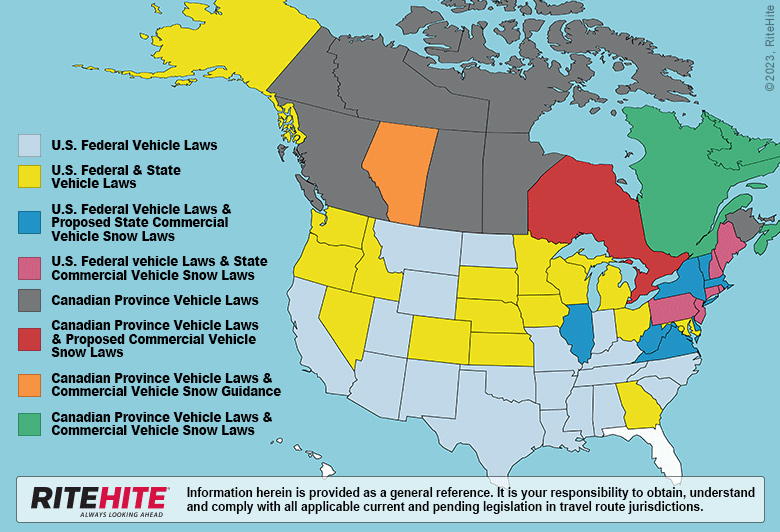 In 2016, the American Trucking Association (ATA) published a summary of the snow removal laws in place at that time, categorized by U.S. state. We've been following this series of legislations, making updates to the ATA's initial findings, and adding new entries as US states and Canadian provinces discuss potential regulations and bring them to vote.
The public sector weighs in
Governments and municipalities across North America are discussing laws and legislation to improve road safety and enforce clearing snow off trailers, trucks and buses.
What laws impact rooftop snow removal for commercial carriers, transit vehicles and buses on our roadways? And what do they mean for fleet managers?
We took a look at snow laws in U.S. states and Canadian provinces to capture a snapshot of legislation governing snow removal from commercial and municipal vehicles on roadways. Here are some observations and their impact for winter fleet management.
1. Fleet drivers face penalties for violating regulation.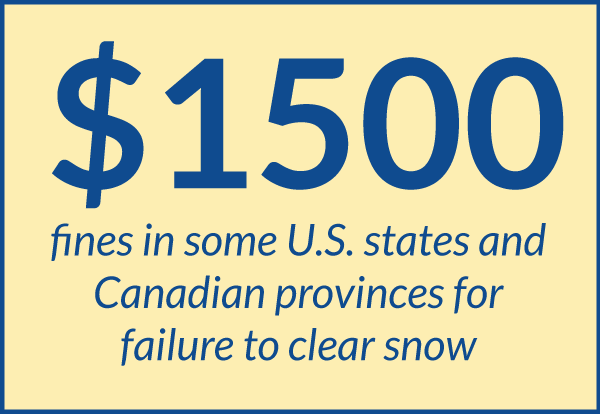 Commercial drivers could face revocation of their commercial driver's license, points assessed to their driving record, temporary or permanent loss of job, higher insurance rates and significant fines – up to $1,500 in some places for failure to remove snow from the tops of trailers/buses.
2. Well-established snow laws for commercial vehicles are already in place.
"These areas have well-established snow removal legislation and set the stage for more states and provinces to follow."
Specific legislation and fines for commercial vehicles traveling with snow covered roofs are enacted in the northeast corridor of the U.S. (CT, ME*, NH, NJ, PA, RI) and in Canada's provinces (QC, NS, NL, PE). With key transportation routes to major populations, and larger, more frequent annual snow falls, these areas have well-established snow removal legislation and set the stage for more states and provinces to follow. Fines range from $75 for failure to clear a vehicle to $1,500 per offense plus a court appearance in NJ.
* In Maine, the law applies to vehicles weighing less than 10,000 lbs/4,539 kg.
New Hampshire has one of the strictest laws for snow removal. Jessica's Law, enacted in NH in 2001 (amended 2005), was created after Jessica Smith was killed when snow and ice fell off the top of a large truck, hit a second truck, and resulted in a head-on collision with Jessica's car. This legislation considers failure to remove snow from a rooftop as negligent driving. Fines for a first offense range from $250-$500, and between $500-$1,000 for a second offense. Additional penalties such as conviction with points removed, and 30-day loss of license could also apply.
In PA, Act 90, also known as Christine's Law, was passed on July 11, 2022. While the previous statute only penalized a driver when a serious accident occurred caused by snow or ice flying off their vehicle – such as the "ice missile" that killed Christine Lambert – Act 90 requires drivers to remove snow within 24 hours or face fines. It also allows police officers to pull over a vehicle in the ice and snow buildup on it poses a potential hazard.
In the Midwest, snow covered commercial vehicles are prevented from accessing height-restricted tunnels in Colorado, and turnpikes in Indiana and Ohio.
3. Pending legislation in states across the country continues to be introduced and brought to vote.
DE, MA, and NY – three more states in the heavily traveled northeast corridor – all have snow laws in the works.
In NY, pending legislation SBS4179 includes fines for violations and establishes a fund to distribute money collected from fines to a broader program. The proposed legislation includes allocating portions to NY Department of Transportation and thruway authority for establishing snow and ice removal sites on their roads, and public awareness campaigns.
4. Even if states and provinces have no specific regulations that address clearing rooftop snow, it doesn't mean fleet operators can ignore the responsibility. Federal laws in the U.S. and provincial laws in Canada prohibit unsecured and overweight loads that impact commercial vehicles. Some U.S. states add stricter laws to govern load security and weight. 
Unsecured truck load legislation addresses shifting loads including ensuring that there are no loose objects that could fall from vehicles and cause sudden and unexpected road hazards. In some states, like Colorado, snow and ice blowing from the tops of fleets may be considered an unsecured load hazard subject to fines and penalties.
Laws specific to commercial vehicle weight limits control the amount of cargo that can be carried. The penalties for operating an overweight truck are severe, and in most areas across North America, an overweight vehicle is considered a criminal offense that could result in prosecution, and significant fines and court costs.
Depending on the type of snow, just 6 inches (15cm) atop a 53-foot trailer can add 5,000 pounds (2,200 kg). On a 40-foot bus, an additional 3,500 pounds (1600 kg) can result.
The bottom line for fleet managers
Fleet managers and facility operators should be aware of legislation in their state and enact processes that keep their company and drivers compliant. Stay up to date by contacting your local and state/provincial and federal government offices for the most recent information.
Remove snow from tops of trailers, trucks, and buses before vehicles leave your yard. This should be standard operating procedure regardless of any applicable legislation.
Well managed fleets make removing snow from rooftops part of a pro-active winter transportation plan, rather than an unmanaged reaction to winter storms.
Use a solution that fits your company's needs and uses your company resources (including staff) appropriately. It should be safe, simple, cost effective, time efficient and allow you to meet customer demands for on-time delivery.
There are many snow removal options available — from roof rakes for manual snow removal to fully automated drive-through machines from Scraper Systems by Rite-Hite™.