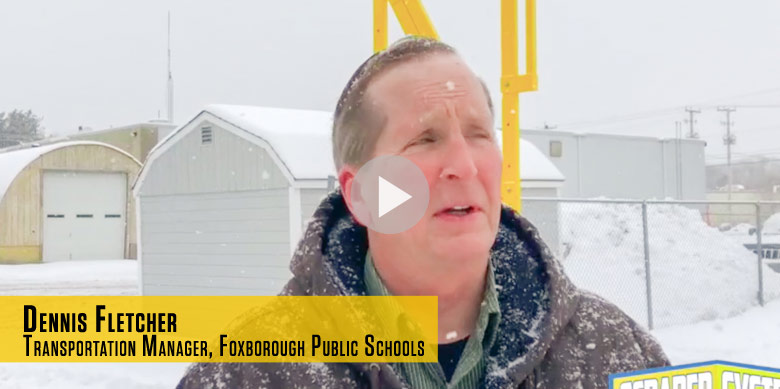 "We ran the buses through and it ran absolutely perfect."
– Dennis Fletcher, Transportation Manager
With a fleet of school buses and a crew in their 60s, manually clearing rooftop snow to get kids to school was an enormous challenge at Foxborough Public Schools, in Foxborough, MA. It took forever, wore crews out physically, and inevitably left a dangerous strip of snow that couldn't be reached on the top of the bus roof. The FleetPlow MD-12B made life a whole lot easier for everyone – no more heavy-lifting and raking, plus greater road safety with buses fully cleared of snow before hitting their routes.
Foxborough Public Schools Project Details
Fleet of 27 buses
Snow clearing method: 4 available staff using roof rakes
Labor commitment: 5 hours; 20 total labor hours per snowfall
Solution: Portable FleetPlow (MD-12B)
Clears 12 inches of rooftop snow
Requires one machine operator
Labor commitment: reduced by more than half
Start to finish takes 90 minutes to clear the fleet
We're here to help make your winter easier.