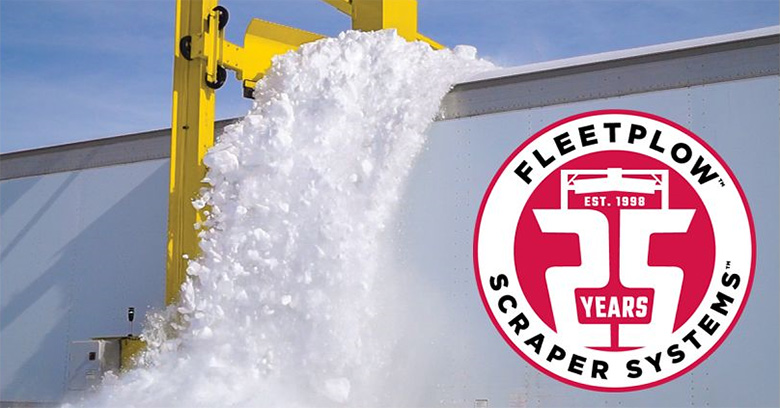 It's said necessity is the mother of invention, and in the case of Scraper Systems nothing could be truer. Scraper Systems was founded 25 years ago in January 1998, but its origins trace back two years earlier, when a monster snowstorm dumped 30 inches across the East Coast.
After the blizzard, Bill Yeaglin-then facilities manager at one of the nation's largest trucking companies, Yellow Freight-was faced with the daunting task of removing that snow from the firm's tractor-trailers. For the next three days, he had company employees clambering up ladders around the clock to shovel it off, with another employee on the ground "spotting" them to make sure they didn't fall.
It was a solution, of sorts, but not a good one.
Understanding that snow and ice add unwanted weight to truck trailers-and can blow off rooftops and cause serious injury to other drivers-he set out to develop a way to remove snow that was faster and safer than ladders and shovels. He soon began tinkering with ideas for automatically removing trailer-top snow using a V-shaped plow fixed atop two vertical beams. Two years later, after adding an electric chain hoist to move the plow up and down, Yeaglin had a patent-and the basis for a business, Scraper Systems.
Scraper Systems grew slowly but steadily in its early years, but really took off in 2011, when longtime machine fabricating entrepreneur Howard Livingston took over. Today, the company has installed over 1500 similar products across the U.S. and Canada and is firmly established as the nation's leader in automated rooftop snow removal. And, tellingly, the original unit installed in Fishkill, New York, is still hard at work.
The FleetPlow's success has been due to its reliable, low-maintenance design. Thanks to its Deep-V™ plow blade, it can remove up to 24 inches of heavy, wet snow in a single 30-second pass, getting trucks back on the road with just the push of a button. While the basic design concept remains intact, Scraper Systems hasn't rested on its laurels. In the past 25 years, Scraper Systems has broadened its product offerings with a research and development team that analyzes industry trends and legislative changes, along with a sales and service team that encourages customer input. The results of this process are continually improving products to remove snow safely and quickly from fleets of dry vans, over-the-road trailers, reefer trailers, intermodal containers, box trucks, buses, and more. Recent innovations include:
A unique brush design for roofs with distinctive features like rounded edges
Portability features that allow units to be stored out of the way in summer and non-snowy months
Additional model options to match specific fleet sizes and snow removal needs
Since partnering as an allied product in 2015, and officially joining Rite Hite in 2021, Scraper Systems has further extended its sales and service network. Our dedicated sales team and service technicians help to assist customers in the snowy regions, while adding to Rite Hite's complete loading dock and facility safety systems. Joining the Rite-Hite Family has allowed us to provide a holistic approach to facility safety from truck arrival to departure.
Scraper Systems' dedication to quality, on-time delivery, and service has allowed us to build an extensive customer base, earning trust from large corporations, public entities, and safety-first companies. By providing a safer alternative to truck-top snow removal, we have helped prevent untold accidents on North American roads while keeping companies in compliance with regional snow removal laws in the United States and Canada.
Thank you to all the customers in the last 25 years who've made us the best-selling automated rooftop snow removal company for trailers, buses, and transportation vehicles. While we're proud of the last quarter century, here's to always looking ahead at another 25 years-and beyond-of getting truck and transportation drivers out on the road faster and safer!